"Volume 4 "
Neil Anthony's fourth solo album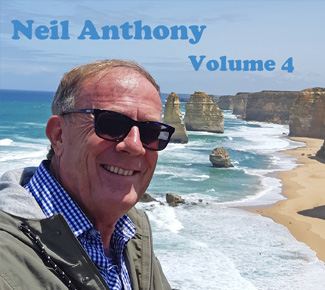 Country Cabaret Singer Songwriter Neil Anthony continues down his version of the country road with a polished fourth solo album titled 'Volume 4'. Neil tempts us with a taste of his captivating original songs ripe with empathy for the people and the places on his patch of the planet.
Those familiar with Neil's 3 previous albums should see this as a valuable addition to a catalogue which shows a depth and breadth with stories to tell.
---
Click on the iTunes link above to preview and/or buy individual songs or the whole album
Also avaliable on amazon music as individual songs or buy the whole album or listen on spotify
Click on the youtube link see above to watch the video clip of "Living on the Coastline" filmed on Sydney's southern beaches..
---
Comments on the Songs
Living on the Coastline – happily livin' and lovin' on the coastline of the big red island (original) – youtube link see above.


Our Shangri-La– old love can be the best love. My arrangement of a song written by Mark Knopfler.


Strange World– I wrote this song with the late Tony Cornwell. An unsung poet who left reality too soon.


Island Song – "One people one world". Hope our Kiwi brothers don't mind us borrowing their traditional music and making this song of peace about the entire world.


Deadman's Wave –this instrumental harks back to the surf sound 60's era. With a modern twist because in this song the surf always wins! (original) Check out the YouTube link.


Out in a Box – long live the music of the blues. The devil can't take me. I've got 24 locks on my coffin (original).


Hallelujah – my arrangement of the immortal Leonard Cohen song.


Wonder of You – my version of the Elvis classic. Ok, I know it can never be as good as Elvis but this one's for Anna.


Memories are made of this – a remake of a Dean Martin fan favourite. Luckily I had Mark Szeto available to play double bass – it makes the song.


Outerspace – got out my electric guitar and cranked up the "Nigel". Great video on Youtube of the Falcon Nine Rocket launch (original). Check out the YouTube clip


Shores of the Great Lakes – the Great Lakes are the nursery of the sea. Situated near Forster Tuncurry on the Myall Shares (original).


Small Town Ways – Written with Tony Cornwell. True values learned early stay with you for a lifetime. See the Youtube video touring country NSW.


Wishing You a Merry Christmas – send love at Christmas. Nice Youtube to watch (original)


---
"Neil Anthony's Volume 4"
Acknowledgements
An Independent Music Production – Producer Neil Anthony
Musicians "The Sounds of the Heartbeats"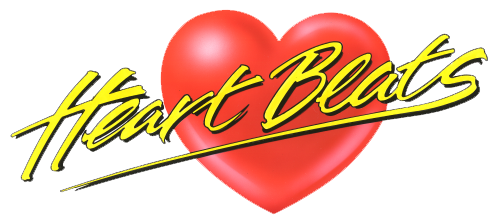 Neil Anthony – lead vocals, harmony vocals, acoustic guitar, electric guitar, bass guitar, keyboards, drum sequencing, ukulele.
Dave Marett – harmony vocals, lead guitar, slide guitar, fiddle, drum sequencing.
Mark Szeto – double bass or electric bass on tracks 3, 9, 11 and 13.
Phil Hitchcock – bass guitar on track 12
Special Guest Musicians
Albert Calvo guitar on track 6.
Dave Zappia drums on track 11.
Mark Kennedy drums on track 12.

---
Music and Sound Production
Musical Arrangements by Neil Anthony
Engineered and Mastered by Neil Anthony and Dave Marett. Dave Marett
Digitally recorded using Cubase Virtual Studio and Reason Sequencers
---
Now it's time to relax and download the Album.
Contact thru this website if you need further info.
Cheers!  

Text from CdBaby (May 2021)
"Neil's beautiful vocal tones and acoustic guitar have already captivated audiences with an easy listening luxury. His style has been well described as pure and melodic with a crafted vibe that also has a slight country bent. With his songs almost having a 70's or 80's pop edge, Neil's vocal style has also been likened to earlier artists such as John Denver and even Dean Martin.
Neil's new album 'Volume 4' comes with a new slant on some age-old themes, which invites you to leave behind your troubles for the moment and have a listen. Although introducing us to his songs in quite a reflective mood Neil has presented us with a powerful message and a positive vibe. With nine originals and four well known 'covers' Neil traverses some tried and true musical genres to create a rich warm sound on every track.
"I wanted to evoke a particular feeling, strike a thought, a little spark inside. Those same feelings I felt when writing these songs came sometimes from a place of deep nostalgia and some times when I myself saw the importance of love and peace." – Neil

The album has been skilfully produced by Neil with the help of legendary sound engineer Dave Marett. Apart from Neil's vocals and acoustic guitar there are some great performances on electric guitar and violin by Dave Marett. Rounding out the sound is electric and double bass played by Mark Szeto. Guesting on drums from Mark Kennedy and Dave Zappia with guitar on "Out in Box' from virtuoso Albert Calvo.
The selection of tracks for the album, including covers of Dean Martin, Elvis, Mark Knopfler, and Leonard Cohen songs was guided by Neil's live performances. Selecting tracks that went down well in live performance translates into a very listenable album.
As an independent album this sets the bar quite high."